What does overhead valve engine mean?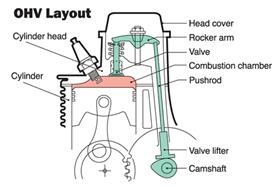 An (
OHV
)
overhead valve engine
is just what it says, the valves are placed over the head of the pistons. This was an improvement over the old flat head
engine
, where the valves were placed in the block next to the piston. OHC, SOHC and DOHC
engines
place the camshaft overhead but they are still
OHV engines
.
What are the types of engines ?
Fuel economy,torque ,lawn mower maintenance and horse power are the factors that vary between engines and according to them you can choose what you need, i think that these factors can be used with all types of engines not for lawn mowers only.
Four cycle engines:
Many moving parts inside makes it heavy causing more horsepower consumed because of the increased weight.
Other than the heavier weight it contains an oil reservoir that lubricates all the moving parts together.
This reservoir needs to be changed at least once a year to ensure maximum fuel efficiency and power to the mower but this requires more frequent maintenance.
This more cost over time is nearly the same if you paid more when buying an expensive lawn more that needs less maintenance hussle.
OHV pros:
Why most people prefer the (OHV) overhead valve engine ?
Lawn mowers with overhead valve engines provide more power than four cycled ones because of the less weight of its moving parts.
This reason allows more power to almost transfer completely for moving the lawn mower and rotating its blades.
Single and double overhead cam engines (SOHC & DOHC):
Both are alternatives to overhead valve engines. The single creates more torque on lower engine speeds while the double creates more torque on high engine speeds.
Poulan Pro PR625Y22RP
briggs & stratton 625ex bag/mulch 2 in 1 front wheel self propelled mower 22 inch deck 961420126 is not well known among  most people.has a 150 cc strong motor, made by Briggs & Stratton which are well Known by reliable and powerful engines.The Briggs & Stratton autochoke engine 625e series has an overhead valve power wich reduces noise and fuel consumption but increases power and torque.